IS SOMETHING WRONG WITH TODAY'S MODERN LOVE? 
Has the digital realm changed the way we affect love? What is modern love and how do we navigate it?
We're really proud to guest blog for a global media platform of nearly 2M+ social media subscribers, Shut Up and Go. My team and I are artists from around the world. We take pride in making personalised books that encourage you to present a truly thoughtful gift by putting in the work and effort, required for successful relationships.
Remember the classic love song from Haddaway?
What is love? Baby don't hurt me, no more.
It gives us a good sense of what love is all about. Only a romantic love can truly break your heart in pieces or make your heart complete. That is why the concept of romantic love is scary because it's either life's worst or greatest experience. You are giving another person the power to determine whether you are going to be unhappy or happy! But with today's many distractions, we seemed to have lost track of what it takes to build a solid and trusting relationship. It's becoming more effortless to be 'replaceable' if things are getting a little hard. This is our opinion on Shut Up and Go:
https://shutupandgo.travel/is-something-wrong-with-todays-modern-love/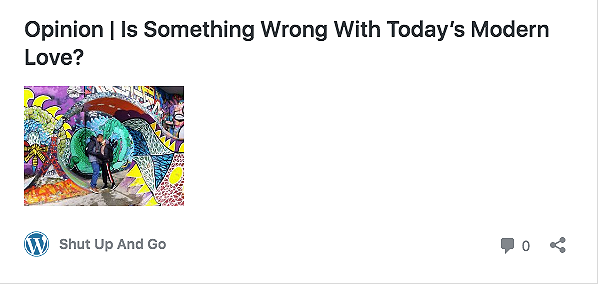 My own modern love story started with a text to @hawaiiantraveler: "Are you still traveling around the globe?" This was a starting point of hundreds of hours of talking on a live stream, snapping, laughing, telling stories, writing long notes, singing every day, 7100 miles away. I felt a stronger connection with him than any guy I ever met in real life. Meeting someone online means a relationship based on pure communication; that was the only thing we had for months. The only way you can establish love and trust back in the days and today has never really changed. Great communication has always been the best secret to any awesome love story!